In this post, I will be posting about certain books we read in class which went down well with the children.  Children you may comment on them and say why you liked them and if the story helped you to understand the concept tackled better or if it helped you solve a problem, or anything else you would like to tell us about the story – maybe you would have had a different ending….
Today we had two interesting books about FOOD.  Well done to Francesca, who once again while at the public library looks for books which link with our topic.  Today's books were about BREAD.  In the first book we saw what we need to make bread.  The second book showed us a mass production bakery.  They are really interesting books.  Thank you Francesca.
As of this week we have started discussing Houses and Homes.  We have explored animal houses enough and moved on to human houses.  The children were asked to bring books in relation  to this topic.  Here are two books, two children brought in.
  This shows us step by step how houses in countries like England are built.  What materials are used and how each section of the house is built.
While this story helps us look at how a family spend their day at home, which rooms are used and what do they do in the different rooms.
Another child brought in a Spanish book which included some stories we read lately from our class bible.  It was very interesting as the children could listen to the same story in a foreign language.  They were really interested to try and catch some words that they understood the meaning of…..
This week we will close off our topic ANIMALS.  We continued were we left off with the dinosaurs and read a book called Top Dinosaurs. 
Here we looked at the features of certain dinosaurs.  We saw how a T-Rex was the fiercest of all, while stegosaurus was strong but with a brain the size of a walnut.  It was really interesting to read that certain dinosaurs weight as much as 15 elephants while others only as much as a cat.
Another story we read was a rhyming story called I want a Pet.  Here we visit a petshop which sells very strange pets.  Each verse rhymes, so we had fun try to end off each page.
Dinosaur Encore by Patricia Mullins is the book which launched our sub topic this week.  What strange names these dinosaurs have and how different they were from the animals we know. 
This week we kicked off our reading session with We're Going on a Bear Hunt by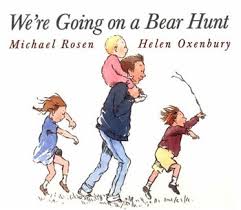 Michael Rosen and Helen Oxenbury.  It is a fun book which brings us close to going on a bear hunt during pretend play.  This opened our discussion on endangered animals and how some animals are hunted for their fur.  The children soon got caught up in the book and started to repeat the repeatitive areas.  A well enjoyed story.
We also had time for another lovely book by Julia Donaldson and Axel Sheffler.  This book is called The Snail and the Whale. 
  It is a very sweet story about a little snail who wanted to explore the world and hitched a lift on a Whale's tail.  From beginning to end it has a rhyming aspect and we noticed that a lot of the words had the digraph 'ai'.
Other books we managed to read today were : The Elephant's nose, On the Farm and Rosie and the Wasp.
This is a lovely story telling us how the elephant got a trunk since he was born with a short nose. 
  In this book we look at life on the farm.  We meet a lot of animals and look at what they eat.
 This book was read by the children to the other children.  It has easy phonetic words to read.
Today we read another 2 sweet stories about animals.  One was called The large and Growly bear by Gertrude Crampton.  The other book is Penny the pony.
The first book is one that was brought from the public library as well.  It is a story about a bear who wanted to be Growly and scare his fellow animal friends.  At the end the only one he scared was his own reflection in the river!!!!
The second book is about a young pony who is curious to find out who lives in a mound of dirt.  This animal must have his house underground.  He asks the animals around him but nobody knows who lives there.  In the end a little mole comes out from his underground home. It is easy enough for you to read and also a sweet story.
Another few interesting books we read this week are:  Dennis the Donkey, A trip to the Zoo, Animal friends.
Denis the Donkey is about a donkey who used to chat so much that he lost his voice.  This is a very sweet story and easy to read by yourselves.
In a Trip to the Zoo, we meet a lot of different animals.  We could explore the way they looked, classify them into groups – birds, wild animals, sea creatures etc….
Another interesting book we read is called Animal Friends.  Here we see how animals join up to support each other when humans start chopping their trees.  As they were  all scared of the humans they started running away until they met other human beings, which helped them confront the people whose job was to chop trees for wood.  It is a brilliant story, which unfortunately highlights what is really happening in the jungles around the world.
Tuesday's books: Many thanks children for all the books you brought in to be shared in class.  Today we read a story called: Animal Babies by Jane Carruth.  This book was brought in by a child who borrowed it from the public library.  It is always interesting to visit the library and browse through books – some you might have others might be new to you.  How many of you borrow books from the public library?  Tell us why you enjoy visiting the library.  Do they do anything special for children in the library you go to?  Tell us about it.
Monday's books:  Today we kicked off our Topic with discussing Farm Animal.  We could not start this off without reading a story about a Farm!  Our story is called : A Day At Greenhill Farm.  In this story, written by Sue Nicholson, we have a look at a day on the farm.  The crow wakes everyone up…. and the day on the farm begins.  In this story we looked at the various animals found on the farm as well as their young.  We also learnt about the feathers of the ducklings which are called down and the beak of the geese and ducks which is called bill. 
Children if you enjoyed the story, which animal did you like best and why?  Here is the picture of the book to remind you.
Another story we looked at today was a Gigi book.  Today we read the story of Gigi Egoist.  In this story Gigi learnt that by not sharing his own toys, he could be very lonely.  He had more fun when he played together with his brother and friend.  Rmember this children when we feel like not sharing…….
A story that the children enjoyed reading to the others was: The Shy Tiger.   Here we come across a tiger who wants to learn how to be mean, but she cannot say boo to a butterfly.  In the end she decides that it does not pay to be mean at all as she would end up without any friends. 
Well done children!  You read this story beautifully.  Keep up your good work with reading and read more at home as well.  If you come across any interesting stories bring them in to class so we can share them with others.
This week we looked at these two particular books.  One of them links with our present topic ANIMALS.  It is called My Zoo Family.  It is illustrated by Steven She.  The story is about Miss Squirrel who takes her friend Mr Mouse to visit her family who live at the Zoo.  It is a very sweet story and easily read by 5 year olds.
Another book that was well liked is called 'I don't want to sleep alone!' by Alison Ritchie and illustrated by Cathy Gale.  This is about a little cat who would not sleep alone in his own bed and would always crawl in his mummy's and daddy's bed.  It is an issue that a lot of children this age live everyday, sometimes without wanting to, other times because they feel it more cozy in their parents bed, other times just for attention.  Use this book for discussion if your child is one of these.  Children after our discussion in class 'What do you think?  Which is the best bed to sleep in and why?  What is so special about your OWN bed?'